TRIDESETE GAZI:Jelena Kostov proslavila rodjendan sa kolegama!
Kažu ljudi da je žena u tridesetim najbolja, a to se može videti na primjeru pjevačice Jelene Kostov, koja je prije dva dana proslavila 32. rodjendan i koja je ostvarena u svakom smislu te riječi.
Pored toga što je zadovoljna poslovno, jer ima dosta posla, našla je čoveka svog života, Jelena se može pohvaliti i mnogobrojnim prijateljima, koji su u dobroj atmosferi i uz dosta pozitivne energije i muzike, proslavile njen rodjendan.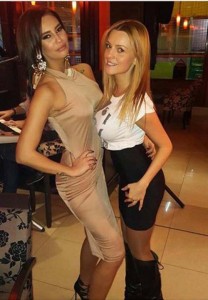 "Zadovoljna sam što sam ovaj rodjendan proslavila sa ljudima koji su se dokazali kao moji pravi prijatelji, jer su bili tu i u dobru i u zlu.Mogu slobodno da kažem da je ovo jedan od najlepših rodjendana, jer sam zadovoljna na svim poljima i ništa ne bih mijenjala.Godina se ne plašim i mislim da sam sada u najboljim godinama"-rekla nam je Jelena.
Kako smo saznali, Jelena je rodjendan proslavila u restoranu "Palazzo Pitti", u kom se osjeća kao kod kuće, obzirom da se nalazi u njenoj zgradi i da u njemu svako jutro pije kafu, kada joj to vrijeme dozvoli.
Od kolega na slavlju su bili Darko Lazić, Ana Sević, Nikolina i Saša Kapor, Petar Mitić, Ivana Pavković, Nemanja Staletović, Milena Ćeranić, Katarina Grujić, Aleksandra Bursać, Dinča, Milan Mitrović, Dragi Domić, koji su pevali Jelenine omiljene pjesme, a zapevala je i slavljenica.S'toga ne čudi što Jelena tvrdi da se skoro nije tako opustila i lijepo provela, jer su prijatelji učinili da se osjeća posebno te večeri!
Izvor:e-turneja.com
Comments
comments